Dreams33 Celebrates Foster Care Awareness Month with "Foster the Fun" Initiative
Let's bring joy and unforgettable memories to our hardworking scholars this May!
As May ushers in Foster Care Awareness Month, Dreams33 is excited to announce our annual "Foster the Fun" initiative, a heartwarming project to celebrate our scholars and make their wishes come true. With your help, we can create lifelong memories for these incredible young people who face numerous challenges on their path to success.
Spreading Love, Support, and Fun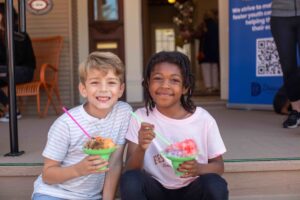 The "Foster the Fun" initiative is designed to give our scholars the love, support, and excitement they deserve while navigating the often-difficult journey of foster care and education. At Dreams33, we believe that life is not just about hard work and overcoming obstacles but also about cherishing moments of happiness, laughter, and fun.
To bring this vision to life, we've asked each of our scholars to share one special wish with us. These wishes represent their unique dreams and aspirations, which we aim to fulfill with the generous support of our community.
Making Wishes Come True
Your donations will go directly towards making these dreams a reality, and the impact of your generosity will reach far beyond the smiles and laughter that you help create. By supporting the "Foster the Fun" initiative, you are also helping our scholars overcome the hurdles they face in their pursuit of education, empowering them to reach their full potential.
Join Us in Fostering the Fun
We invite you to join our mission by contributing to the "Foster the Fun" initiative. Whether it's through financial donations or by spreading the word to your friends and family, your support can make a significant difference in the lives of our scholars.
Together, let's celebrate Foster Care Awareness Month by fostering the fun and bringing joy to the hearts of our Dreams33 scholars. Let's remind them they are loved, supported and that their dreams matter.
To learn more about the "Foster the Fun" initiative and how you can contribute, visit our donation page. Remember, every act of kindness counts – let's create unforgettable memories for our scholars this May and beyond!